British Cars To Be Proud Of!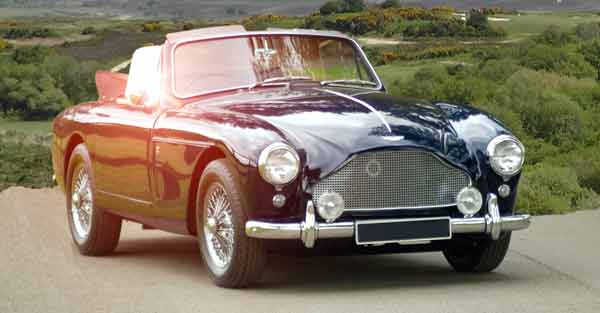 Aston Martin DB2
Aston Martin has it's roots in a company that was formed in 1913 but it has had a very eventful history, going bump seven times altogether in its early years. In 1947 engineering boss David Brown rescued it from yet another financial crisis. His interest was stirred by an Aston Martin prototype car, called the Atom that he drove; this had aluminium bodywork, over a tubular steel frame, and was very fast. He loved it.

Looking around for a decent engine to power his newly aquired cars he bought the rights to build Lagonda cars; what he was really interested in was the new six cylinder, twin overhead camshaft engine that they were about to manufacture, and which had been designed by WO Bentley, the founder of Bentley Motors.

He then put his new acquisitions to the test. He built prototype Atom-based coupes using both Aston Martin and Lagonda engines and raced them in the 1949 Le Mans 24-hour race; the conclusion was that the 2600cc Lagonda engine was far and away the better one.

Apart from a few modifications the DB2 was derived from this prototype.

By April of 1950 it was ready for sale so it was exhibited at the New York Motor Show which was chosen because post-war Britain was extremely short of steel - huge quantities had been swallowed up by the war effort and what little was available was strictly rationed with most of it going to companies that produced goods for export. Hardly surprisingly orders for the car greatly exceeded the company's capacity to build them. Even in Austerity Britain there were still enough wealthy playboys looking for an exciting toy to play with to keep the Aston Martin factory busy! There was an option of a coupe or convertible two seaters; coil spring suspension with trailing arms and a live rear axle stayed with the car throughout it's production life.

Basing a street car on a racing car does have certain drawbacks. For a start rearward visibility through the tiny back window was pretty atrocious; but then most owners were more interested in what was in front of them than what was behind! There was no boot lid and any luggage carried in the car had to be loaded from the inside. This was not a car to put the kids in and go shopping.

A standard DB2 generated 105 brake horsepower which propelled the car up to a maximum of 116 mph with acceleration from 0-60 of 11.2 seconds; quite decent for the time. Handling and braking were superb, as was the standard of finish. This was very much a racing car for a gentleman to drive to the golf club, or his London club, in. In total, 410 were built and sold before production ended in 1953. If it wasn't for all the British steel that was lying beneath the waves or scattered on foreign battlefields no doubt they could have shifted many more.