British Cars To Be Proud Of!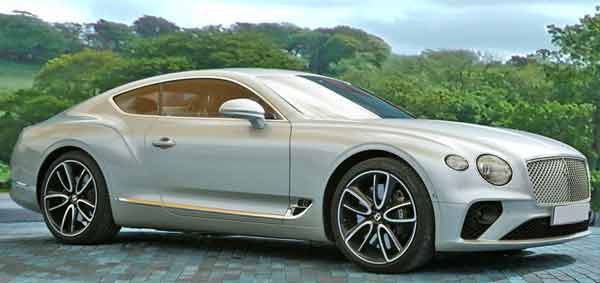 The Bentley Continental R
Back in the 1980s sales of Bentleys were not exactly spectacular. Under their Rolls-Royce ownership they had started to become looked on as a 'poor man's Roller'; and this was miles away from the sporting reputation the make had enjoyed prewar. It was time for a makeover.

The first try was to fit a blower to the Mulsanne engine. This was already a 6.75 litre V8 and not exactly underpowered already but the supercharger edition made it into a virtual rocket. This wasn't quite enough though. The car was still based on a Rolls-Royce model. Managing director David Plaistow decided it was time for a brand-new Bentley, powered by this immensely powerful engine.

In 1986 he chose two designers for the car; Jon Heffernan and Ken Greenley. They had the highest possible qualifications, having run the Royal College of Art's automotive design school. They were isolated away in a disused factory and instructed to come up with a completely new coupe, which met the highest possible specifications. They set to with enthusiasm!

Things don't happen quickly at Bentley Motors. After the specifications had been completed and handed over the two designers only clapped eyes on the car in 1990, when they were invited to take it for a test drive. The prototype was almost identical to their specification, and what the specifications it was!

This, the Bentley Continental R, was the most beautiful car imaginable; and very, very British. It was finished to the highest quality standards with a sumptuous interior and power to match the most demanding tastes. Whilst its top speed was a mere 150 mph (!) It could reach this speed effortlessly, whilst emitting nothing but a discreet whispering roar from the exhaust pipes.

The public were introduced to this superb machine at the motor show in Geneva in 1991 and it was an instant success; the first one being snapped up by the Sultan of Brunei for a shade under £200,000. It impressed him so much that he subsequently bought around 600 cars from Bentley over the coming years! Altogether, however, a total of 1290 Continental Rs were built, well in excess of the expected demand for what was, at the time, the world's most expensive production car.

Just how powerful the engine was is debatable. A Bentley spokesman was asked to provide this information; he merely commented that it was 'sufficient, plus fifty percent'. A typical British understatement.