British Cars To Be Proud Of!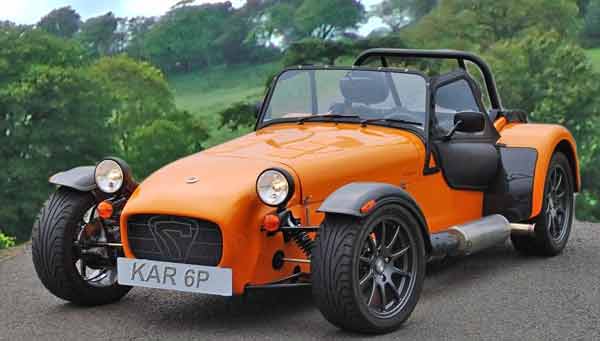 The Caterham Seven
Ex-RAF pilot Colin Chapman was a brilliant and innovative engineer and car designer who founded Lotus Engineering Ltd. He believed that there was a big market for cars that were as simple and lightweight as possible and he wanted to create the ideal one for a motorist with little money to spend, but who still wanted to have a road car that could put up a creditable performance on a racetrack. The Lotus Seven was the result; a stripped down two (only just!) seater with a Lotus twin cam engine, although it was possible to fit different ones if the buyer had the wish to do so.

Back in those days there was huge purchase tax on cars but not on kits; this reduced the price by almost a half; and so self – assembly vehicles were the mainstay of his business.

With such a low centre of gravity, a lightweight chassis, a wishbone suspension and fibreglass body parts this car was fast and incredibly nimble. Roadholding was superb. This was sports driving at its most basic and exciting level.

In 1973 he decided that he wanted to concentrate on racing cars and top of the range models; the Lotus Seven simply didn't fit in with the type of image he wanted for the future and so he sold the rights to it to Caterham Car Sales which was his UK distributor at the time. A name change was discussed but buyers and other enthusiasts christened it the 'Caterham Seven' and the name has stuck ever since.

Since those early beginnings design improvements have continued and the car has been capable of accepting all kinds of engines; for example a 1.8 litre MG K – series powerplant propelled one from nought to 60 in a terrifying 3.4 seconds with a top speed of 150 mph. This must have been incredibly exhilarating for the occupants, sitting as they were in an open cockpit in a tiny lightweight car only inches above the road! They are still made yet, although ownership has reverted to a consortium of managers of the original manufacturers, Lotus. They're not cheap but they hold their value very well. It is likely that family motorists who need to take the kids to school will look upon this machine with something approaching horror. However, for out and out thrills there is little, if anything, on the market to touch it.