British Cars To Be Proud Of!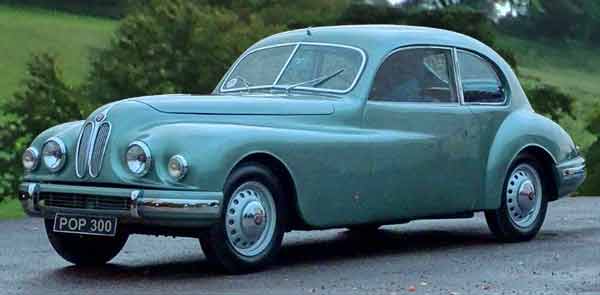 The Bristol 401
A full order book during World War II for engines and airframes, as well as aircraft such as the Blenheim bomber and Beaufighter, collapsed as soon as the war was over. Like many other engineering companies, the Bristol Aeroplane Company had a highly skilled workforce, large factories and many sophisticated machine tools, but few products to produce. It was time to create a car.

One thing about building aircraft is that corners cannot be cut. If your fighter aircraft breaks down you cannot just park by the curb and phone the AA. It has to be reliable enough to complete every journey, every time, even if it is stressed to extremes. This was how Bristol built their aircraft, and they carried on the same ethos into manufacturing their cars, too.

Various war reparations were negotiated by the Allies after the war had ended, and as a result of these some BMW assets were handed over to them.

Their experience in creating lightweight airframes was put to good use in building the 401; an Italian system called 'super – light' was used and this featured aluminium panels covering a sophisticated skeleton of metal tubing. The sheer complexity of this technique meant that most of the work had to be carried out by hand, which was only one example of Bristol's aim to put quality ahead of cost. Pricey this car was, too, in the end; the retail price was about three times that of the equivalent Jaguar at the time. It was not as though they were making a thumping great profit at this price either; it barely covered costs.

Buyers got a lot for their money though. Many of the things that we now take for granted were hardly heard of back in those post-war days. However the 401 incorporated then – revolutionary details such as energy absorbent bumpers, interior switches to open the boot and filler cap, pushbutton door releases, and an aerodynamic body that was styled after extensive tests on a runway and in the company's own wind tunnel. No wonder they called it The Aerodyne!

The two litre, straight six BMW – based engine produced 85 brake horse power, which gave a top speed of approaching 100 mph; there were of course other cars which could reach this speed, but they had much larger engines and therefore much higher fuel consumption. The interior could only be described as sumptuous and was right up to the standards set by luxury car manufacturers such as Bentley.

Add precise steering, excellent handling and a smooth four-speed gearbox and this car won many lifelong admirers for Bristol. A total of 611 401s were sold before they were phased out in 1953.