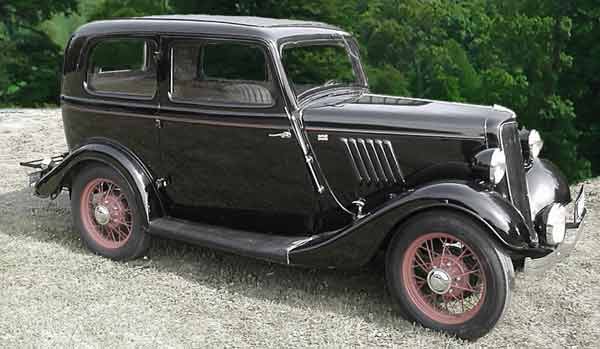 The Ford Model Y
Since it was first built in the early 1930s, Ford's huge plant at Dagenham has created well over 10 million cars. It's survival however was initially due to one car only; the Ford Model Y
Most people look upon the Model T as being Ford's major product but a quirk in the British taxation system made it unpopular in this country. The amount of road tax payable on a car depended upon how powerful the car was but Britain had a system which calculated the horsepower of an engine by measuring the diameter of the bore and the number of cylinders. This meant that one with a wide bore but short cylinders was rated far higher than one with a small bore and long cylinders. Was this logical? Not really, but these were the early days of motoring. The upshot was that the Ford Model T was rated at 22 horsepower which meant owners had to pay £22 a year road tax; and this was a very expensive sum for many people in those days, particularly when import duty was added. Producing them at a plant in Manchester removed the import duty but the road tax burden was still a great disincentive to potential purchasers.
Initially Henry Ford created a small bore engine just for the UK market, and this was christened the Model A. Unfortunately it was underpowered and despite the fact that the road tax on it was reduced to £15 it was a financial failure and sales collapsed during the 1929 stock market crash.
Henry Ford was nothing if not a determined man. In 1931 he set his staff to work on a car designed strictly for the UK market, and the Model Y was born. This retailed at £120, but crucially the road tax dropped to £8 per year making it a far more affordable vehicle to drive. It was manufactured at the newly built Dagenham factory, and was an instant success.
Was it attractive?
Beauty is of course in the eye of the beholder. To anyone used to the standards of the 21st-century it was different, to say the least.
Was it powerful?
Again, everything is relative. The engine (933cc only) was designed to be tax efficient, rather than musclebound. Nought to 60 times are not readily available; presumably they got there eventually.
Was it good to drive?
It had a transverse sprung chassis which ironed out bumps quite effectively, and synchromesh gears made gear changing far easier. Whilst no heater or radio was fitted, it nevertheless made motoring available for the first time to many British people, at a time of great frugality.
Was it successful?
Following an update in 1937 it continued in production right up to 1959, in the form of either the Anglia or Popular (which sold for under £100 initially). These were amongst the most popular vehicles of the age and ensured the success and continued viability of the Dagenham plant.