British Cars To Be Proud Of!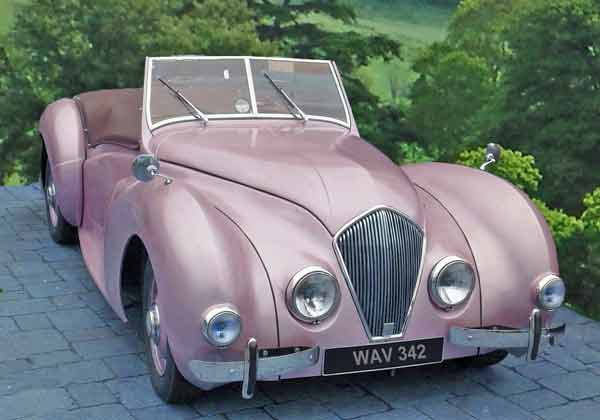 The Healey 2.4
Donald Healey's business was founded on racing successes; both his own and those of his cars. He first rose to prominence in 1931 by winning the Monte Carlo Rally, driving an Invicta, even though the car was damaged in a collision with a telegraph pole. He managed to come second the following year and then in 1934, driving a Triumph Gloria, he managed a still very creditable third place.

Before and after these successes he had a string of others, mainly for Triumph and Riley.

After World War II he decided to go into car manufacture and he concentrated on the top end of the market; his cars were pricey, fast and top-quality. The Healey 2.4 litre made its debut in 1947, and instantly hit the headlines when Healey himself wound a saloon version up to 111 mph on a Belgian road. It was now officially the fastest four seater saloon car in the world. He underlined this by driving another of his 2.4s in a class win at the Alpine Rally in 1947. One of these cars, this time in the hands of another driver, came first in the touring car class of Italy's Mille Miglia the following year.

The technical specifications were impressive. Both the open and closed models had aluminium bodies over an ash frame, a rigid but lightweight chassis with front trailing link suspension, and a very powerful and reliable Riley 2.4 cc four-cylinder engine, generating 104 brake horsepower. The body shell underwent extensive wind tunnel testing to make sure that it wasn't just aesthetically as perfect as possible, but aerodynamically efficient too.

Unfortunately; the post-war period was not a very good time for selling expensive motorcars! And this car was certainly not cheap. The Elliott saloon version retailed at just over £2700, which in those days was a king's ransom.

Despit this, though, the Healey 2.4 litre could still have been a massive success, but for the introduction of Jaguar's X K120; this superb motorcar took away Healey's speed record by setting a new standard of 120mph. By 1948 and 1949 sales declined as a result of this cutthroat competition, but still, in the end, over 600 of them were built in all. A very creditable figure, in view of the difficulties the car had to face.