British Cars To Be Proud Of!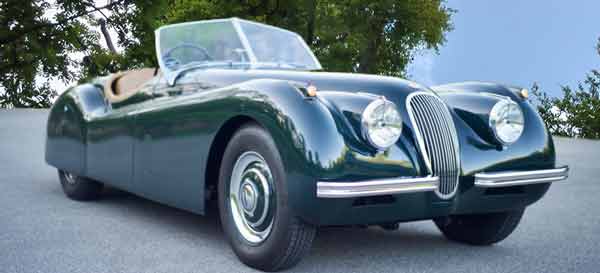 Jaguar XK 120
The Jaguar XK120 was never meant to see the light of day in the first place!

The engine for it was absolutely superb and it looked it too, with cam covers in polished aluminium and even the exhaust manifold was stove enamelled. With six cylinders in line and a total capacity 3442 cc, a cast-iron block, aluminium crossflow cylinder head, twin timing chains and twin SU carburettors it pumped out 160 brake horsepower at 5000 rpm.

It had been designed during the war by three Jaguar engineers, who, rumour had it, had put their plans together during long hours on fire watch at the factory.

Once the war was over it was decided to put it into production and in order to advertise it a sports car was hastily put together. It was planned to manufacture just 240 of these sports cars initially, to cover the company's development costs, but things didn't work out that way.

The car, complete with the new engine, was displayed at the motor show at Earls Court in 1948, and it caused a sensation. This beautiful, powerful car was offered for sale at what was then the bargain price of £1300; and customers clamoured to buy one. Jaguar's boss, William Lyons, decided there and then to put it into full-scale production and the first models were ready for delivery a year later.

Labeled the XK120 because of a claimed top speed of 120 mph, it featured independent front suspension and a four speed, manual gearbox, with synchromesh on the top three gears. There were semi-elliptical springs at the rear, with lever arm dampers. On the downside there were drum brakes all round; it was obvious that top speed was more important to many people than the ability to stop what was a big, heavy and very fast car.

Jaguar's claim of a top speed of 120 mph and a 0 to 60 time of 10 seconds was met with a certain degree of scepticism so Jaguar decided to settle this question once and for all. One of their test drivers, Ron Sutton, invited journalists to watch him on a test track where he took one up to 126 mph with the hood up; he then remove the hood and windshield and took it out again. This time he was able to clock 132 mph. Jaguar were able to enter the record books with the fastest production car in the world.

Sadly very few of these reached the British market, still suffering under the effects of rationing and austerity. The engine really need decent petrol to run on, and the quality in Britain, when it was available, was pretty poor. The obvious market for this car was the United States, which is where most of the production was sent to.